Sorry, we're unable to host DEAA for summer 2018.  Please check back with us next year per plans for 2019.  Meanwhile, plan to join us for the Land of Enchantment Fly In on August 25, 2018!  
DEAA 2017 – A week to remember!
Our 5th annual Double Eagle Aviation Academy (DEAA) offered a fun and challenging week at the airport!  DEAA is for students ages 14 – 17, to explore a future in aviation.
Thanks to our over 50 volunteers and generous DEAA 2017 sponsors!    Aspen Avionics, Van's Aircraft,  David Clark, Aircraft Spruce, Bode Aviation, NMDOT Aviation Division, The City of Albuquerque,  Best Buy (Eubank), Costco (Coors Bypass), Hobby Proz, Smiths (Golf Course Rd) and several individual EAA179 members and friends who donated student tuition.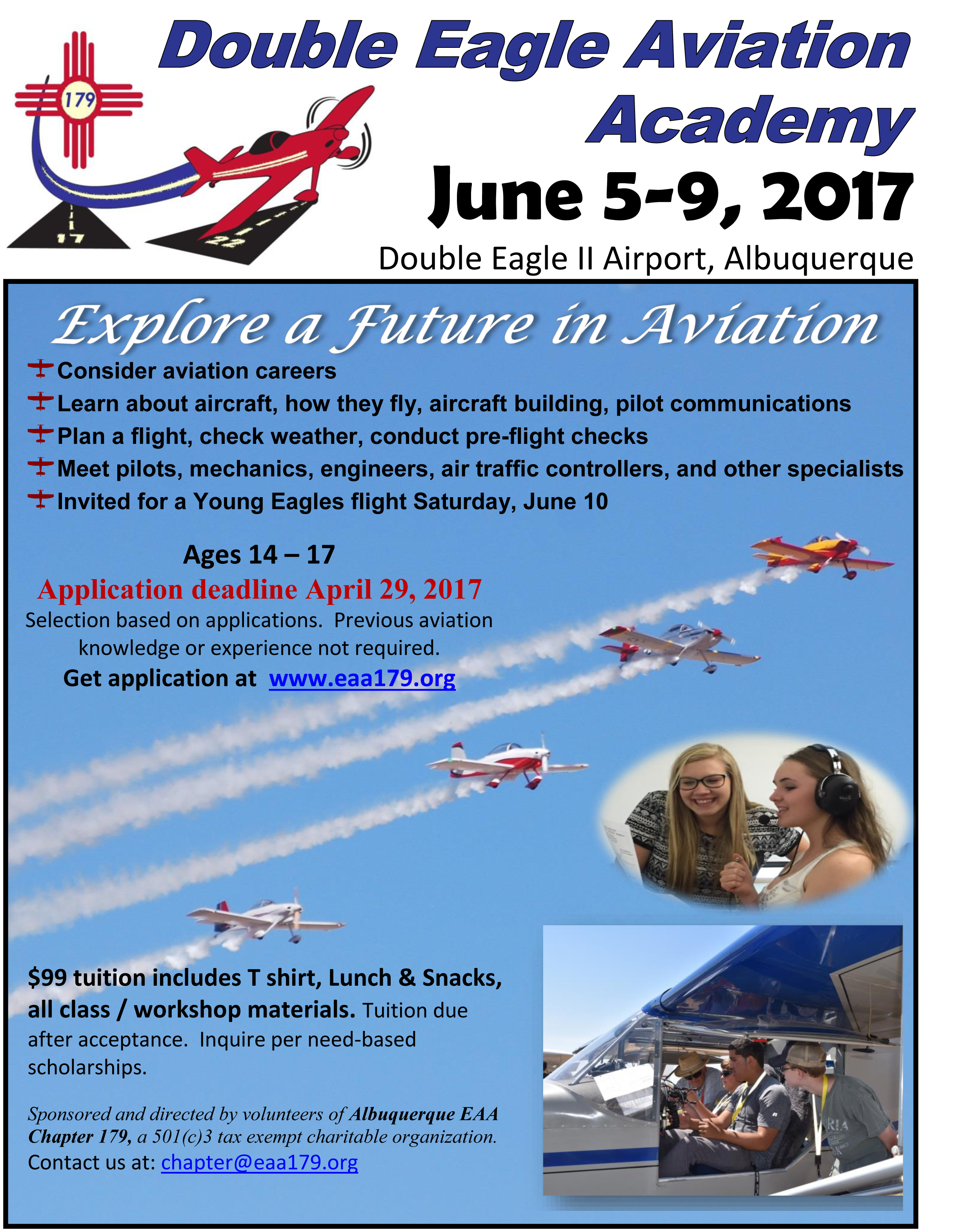 Students learn to read weather reports, how to control pitch, roll, and yaw, the importance of balancing weight in the plane, to interpret the instrument "Six Pack", how aluminum structures are designed to be strong, the legs of a traffic pattern and how to communicate at non-towered and towered airports. They rivet and roll aluminum to make part of an aileron, conduct an aircraft pre-flight inspection, visit a control tower, and plan a flight.
Questions?  Let us know.  Contact us at chapter@eaa179.org

KUDOS to the over 50 volunteers from the area pilot community who annually share their time, aircraft, enthusiasm, experience, and advice with DEAA students!  
Download the application – 2017 Session is FULL, Applications no longer accepted