Experimental Aircraft Association Chapter 179 awards scholarships each year to applicants 25 years of age or less, currently seeking aviation education such as flight training, A&P certification, etc. The amount and number of grants are determined by our Board of Directors each year, contingent on funding available. Funds are paid directly to the school/instructor on behalf of the recipient.  Application Deadline:  February 15 each year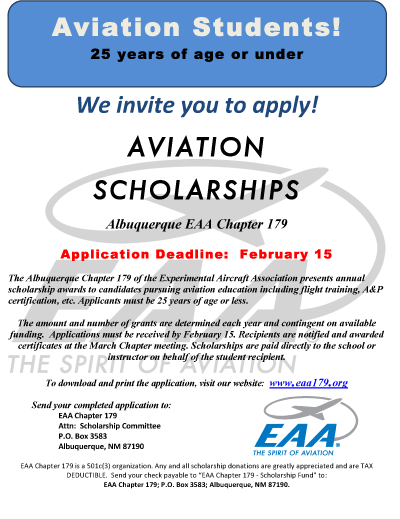 Application Downloads:
MS Word format
Adobe PDF format
Download our flyer, print and distribute!
To apply, return the completed application to:
EAA Chapter 179
Attn: Scholarship 
P.O. Box 3583
Albuquerque, NM 87190
DONATE TODAY!   We encourage and accept donations of any amount to our scholarship fund. Chapter 179 is a 501c(3) tax exempt charitable organization.  Thus, all donations are fully TAX DEDUCTIBLE.  Make your check out to "EAA  179 Scholarship"  and mail to EAA Chapter 179; P.O. Box 3583; Albuquerque, NM 87190.